Merry Christmas from everyone at Lighthouse
Apprenticeship Levy facts
The Levy can only be used with England
You can be any age to benefit from Apprenticeship training.
The apprenticeship levy can only be used within England. Lighthouse are able to offer exactly the same training on a non funded basis for employees outside of England to ensure the same consistent training is delivered across organisations.
Employers who meet the threshold and have a payroll of more than £3 million pay a 0.5% levy on their total payroll.
If you are a non-levy paying employer you only need to pay 5% of an Apprenticeship programme and the government will fund the rest. This is called 'co-investment'.
Employers can transfer up to 25% of their annual levy to other organisations.
There are over 600 Apprenticeship training programmes your Levy funding can be used for
If you have run out of Levy funding you can access the co-investment option. The government funds 95% of the programme and you pay the remaining 5%
Your levy funds sit in your DAS (Digital Apprenticeship Service) account.
We are happy to answer any of your Levy or training related questions.
A key member of the team whose primary objective at the Lighthouse team is to ensure no ball is left un-chased, caught, and on occasion completely devoured.
Sally is a 1-year-old Patterdale. Although she has no previous experience in her new position of 'Bring a Smile to Member of Staff Consultant', she excels in this role with everyone who encounters her. It's not unknown for her to enthusiastically join in conversations with Mum, Gill, while on a Teams call.
Away from the office she can often been seen spending time with her extended cat family, going for long walks and snoozing on her favourite chair.
Apprenticeship programme results!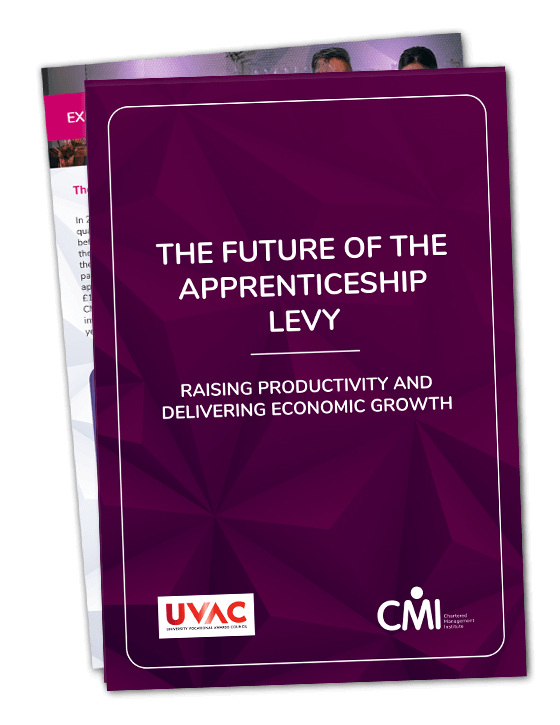 Have you read 'The future of the Apprenticeship Levy'  from the CMI?
Evidence suggests that apprenticeships are delivering productivity gains, helping businesses and public services to innovate, and transforming organisational cultures around learning and development.